Caulkins says overspending played role in state's drop in net worth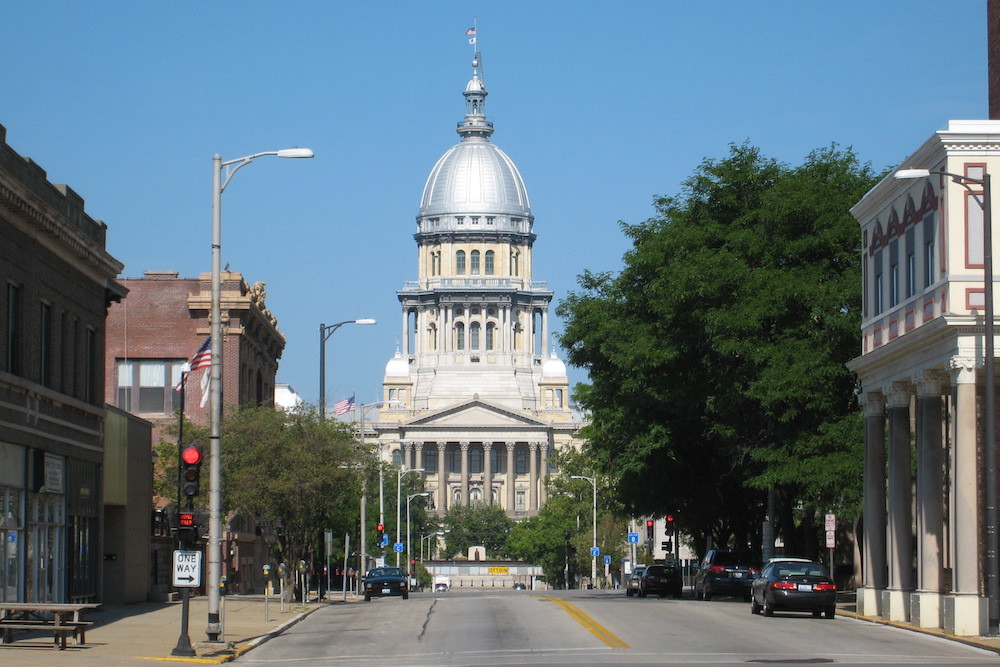 Springfield, Illinois | By Éovart Caçeir at English Wikipedia, CC BY-SA 3.0, https://commons.wikimedia.org/w/index.php?curid=10535377
Even with a new Comprehensive Annual Financial Report showing that Illinois lost $9.9 billion in net worth in 2017, Dan Caulkins doesn't think the numbers alone are representative of the state's biggest problems.
"We have a government that won't stop spending and handing out perks because career politicians are more interested in getting re-elected than solving problems," Caulkins told the East Central Reporter. "Like most of us, I didn't realize how poorly our state has been performing."
Dan Caulkins
The 2017 dip in net worth drops the state's "total government net position" to a negative $137 billion. According to Wirepoints, the figures are calculated d by measuring the net worth of assets minus liabilities.
The website adds the $9.9 billion figure equates to approximately a quarter of the state's total revenue for the year, which was approximately $38 billion.
The losses aren't just restricted to the state, with figures comprised by Wirepoints showing over the last decade that the City of Chicago, Cook County and Chicago Public Schools have all suffered steep losses.
Data also shows Illinois is easily outpacing other states in terms of its negative net position and a recently booming stock market has had little effect in stemming the tide.
Research further concludes the bulk of the state's losses over the last decade derives from still bubbling unfunded annuity liabilities. Even with markets rising in 2017 and the state's pensions earning an unusually high 15 percent, pension liabilities stayed flat and the state remained heavily mired in the red.
"We don't have an income problem," said Caulkins, who pronounced his Republican primary win over Randy Keith and Todd Henricks to replace retiring Rep. Bill Mitchell (R-Forsyth) in the 101st District as a "validation" of our efforts and message. Caulkins will face Democrat Jennifer McMillin in November's general election.
"I'm running to rein in the out-of-control spending and taxes so that families aren't continually hit up by government," he said. "I will champion lower taxes, cost-saving measures and spending reforms if I'm elected."
Caulkins said the way residents feel about the direction of the state is best expressed in how many of them are now fleeing to other places.
"If you want to know what the taxpayers think about the state of our state, look at the census data," he said. "One person leaves Illinois every 5 minutes, taking their family, their skills and their wealth with them. It's a vicious circle – fewer people to pay for increased spending leads to more jobs and people leaving, which leads to fewer people. Last summer, we saw the largest permanent tax hike in history passed, and already Democratic governor candidate J.B. Pritzker is calling for a progressive income tax."
Caulkins said he marvels at how everyone else seems to realize what is needed in the state except the politicians entrusted with guiding its direction.
"The state is really the people who live here, not some small group of elected people and lobbyists in Springfield," he said. "I believe the people know our finances are in terrible shape, and like any reasonable person facing hard times in their business or at home, we know the answer. Don't spend money you don't have. Only spend on the very basic necessities. Pay your high interest (credit card) debt first and start a modest savings account for unforeseen events."
Want to get notified whenever we write about
Friends of Daniel P Caulkins
?
Next time we write about Friends of Daniel P Caulkins, we'll email you a link to the story. You may edit your settings or unsubscribe at any time.
Sign-up for Alerts
Organizations in this Story
More News