Rep. Halbrook opposes abortion legislation, but no comment yet about Pappas' alleged remark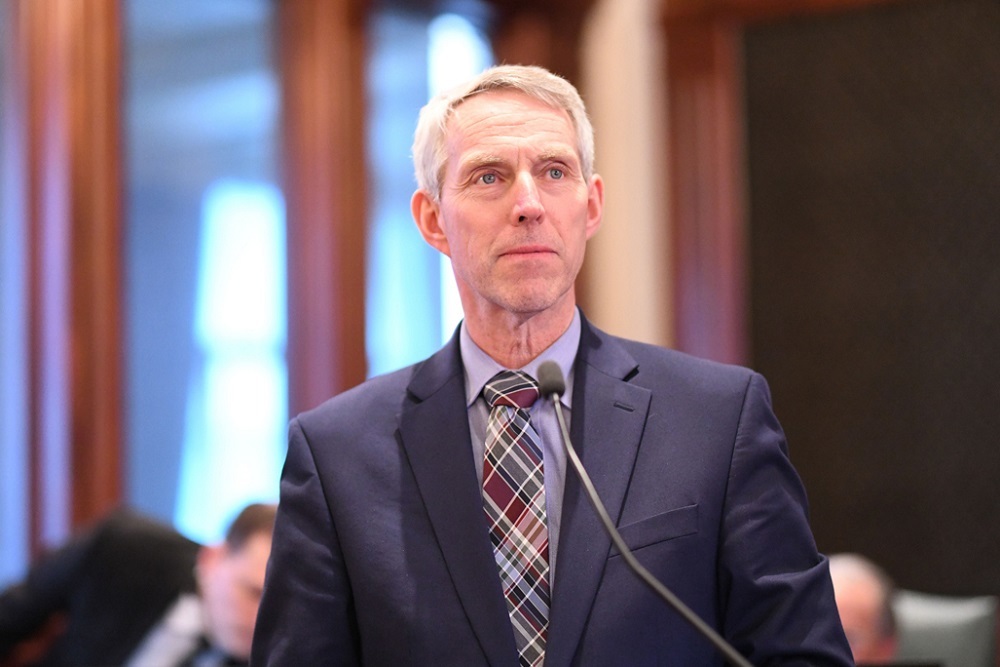 Illinois state Rep. Brad Halbrook (R-Shelbyville) | rephalbrook.com
Illinois state Rep. Brad Halbrook (R-Shelbyville) is against an abortion bill he calls "extreme," but apparently does not want to comment on a Democratic lawmaker's alleged recommendation to use castration to reduce abortion numbers.
Halbrook did not respond to an East Central Reporter request for comment about reports that surfaced last month that state Rep. Diane Pappas (D-Itasca) had allegedly discussed castration as it could potentially relate to the state's abortion debate. In March, Halbrook joined other lawmakers "in sounding the alarm about extreme legislation introduced to legalize infanticide in Illinois," according to a release on his House website. Halbrook is against two measures, the Reproductive Health Act or House Bill 2495, and the Parent Notice Abortion - Repeal or House Bill 2467.
Illinois state Rep. Diane Pappas (D-Itasca) | facebook.com/DianeForStateRep
HB 2495 would repeal and replace Illinois' current abortion law and make abortion a fundamental right in the state. It is widely seen as a hedge against the possible overturn of the U.S. Supreme Court's 1973 Roe v Wade decision.
Both bills "would give Illinois some of the most far-left abortion laws in the nation," Halbrook said in the press release.
"House Bill 2495 makes dramatic changes to the state's abortion laws, including allowing abortions for any reason throughout all nine months of pregnancy; jeopardizing any meaningful regulation of abortion clinics; and repealing any law prohibiting 'kickbacks' for abortion referrals," the release said.
Halbrook has represented state House District 102 since he was elected to the seat in November 2016. He represented state House District 110 from April 2012 to 2015. Illinois state House District 102 encompasses all of Douglas, Moultrie and Shelby counties, and parts of Champaign, Edgar, Macon and Vermilion counties.
Last month, allegations by Wayne Township Republican trustee Jackie Hayden surfaced that Pappas suggested castration would be a way to reduce Illinois' abortion numbers.
Hayden reported that Pappas said, "You know ladies, with technology the way it is, we wouldn't have an abortion problem if we applied a plan. Now, I've been told it's a bit radical, but if we allowed men to be castrated, took the sperm to the bank, collected tax dollars on it for storage, then when it's time, to have the man decide he's ready to begin a family . . . well, then the problem is solved!"
Hayden said Pappas made the comment when Hayden and "a group of concerned citizens" met with Pappas at the lawmaker's district office in Bloomingdale earlier this month to discuss HB 2495. Hayden's recollections about what Pappas allegedly said were published on the Wayne County Republican Organization's website and as an op-ed piece in DuPage Policy Journal. The story has attracted little attention outside of conservative publications in Illinois.
Pappas, who is not a co-sponsor of HB 2495 or HB 2467, is a freshman lawmaker who defeated Republican incumbent Christine Winger in November to take over the state House 45th District seat. She has not responded to requests for additional comment following publication of Hayden's allegations.
The 45th District is located in northern DuPage County and includes all or parts of Addison, Bartlett, Bloomingdale, Carol Stream, Hanover Park, Itasca, Medinah, Roselle, Wayne, West Chicago and Wood Dale.
Want to get notified whenever we write about any of these organizations ?
Next time we write about any of these organizations, we'll email you a link to the story. You may edit your settings or unsubscribe at any time.
Sign-up for Alerts
Organizations in this Story
Illinois House of Representatives • Illinois State Representative Brad Halbrook • Illinois State Representative Diane Pappas
More News